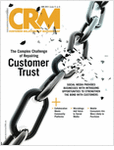 Here's another magazine that is open for free subscription.
This magazine is especially written for senior business and IT management with a goal of fostering and promoting an understanding of Customer Relationship Management (CRM) and the associated business and technological strategies.Senior managers will benifit much from this magazine because it helps them to identify how to maintain and gain profitable customers, generate loyalty and reduce business costs.
Request for your copy
here.
Labels: CRM Magazine, freebies, Website Magazine