Office Professional Plus 2007 is a powerful set of tools designed to help information workers and their organizations work more efficiently with information. To address the needs of customers as well as emerging workplace trends, Microsoft focused the design of Microsoft Office Professional Plus 2007 around four key goals. They are: working more efficiently with better results, collaborating with others across boundaries, making better use of information, and streamlining processes and controlling content. These goals correspond to long-term investment areas that Microsoft began with Microsoft Office 2003 and continues to focus on today.  
Click here to request your free copy
.
2. IP Phones Checklist: What to ask before you buy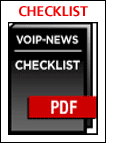 Learn what questions you should ask before purchasing IP Phones for your VoIP System. The information in this comprehensive document will help you effectively negotiate, lay out your business requirements up front, assess trade-offs and prepare for future possibilities.
Questions addressed include:
*Are you better off migrating to a hybrid IP PBX or a pure IP system?
How much time and money are you willing to invest in the training of your employees on IP telephony?
*Will you require videoconferencing capabilities in your IP phone?
*What is the fine print in an IP phone manufacturer's service level agreement (SLA)?